Modal Verbs are can, may, shall, will, must, ought to, used to, need, and dare. Can, may, shall, and will have special past forms could, might, should, and would respectively, but 'must' do not.
Different types of Modal Verbs are discussed below.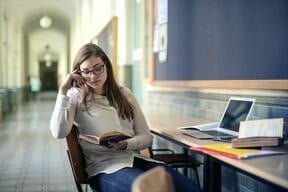 ---
Types of Modal Verbs
---
Modal Auxiliary Verbs
Functions as
Examples
Will
1. asking
2. possibility
3. suggestion
1. Will you go to college?
2. It will probably rain tomorrow.
3. You will feel better if you take some rest.
Would
requesting
Would you be able to lend me a pencil?
Shall
1. asking
2. possibility
1. Shall I do the homework?
2. I hope I shall complete the homework within a week.
Should
1. suggestion
2. seeking advice
1. You should try the chocolate cake, it's delicious.
2. Should I take the train or the bus to get to the airport on time?
Can
1. ability
2. possibility
1. Lisa can speak French fluently.
2. It will be a challenge, but I think we can complete the project if we work together.
Could
1. ability
2. requesting
1. He could do it.
2. Could you pass the salt, please?
May
1. possibility
2. permission
3. offering
1. Alisha may come here today.
2. May I come in?
3. May I get you a cup of coffee?
Might
1. possibility
2. suggestion
1. I might go to the beach this weekend if the weather is nice.
2. We might try a new restaurant today.
Must
1. obligation
2. certainty
3. strong probability
4. prohibition
1. You must obey your parents.
2. I must submit my assignment before the deadline.
3. You must be hungry after a busy day at work.
4. We must not waste our time.
Dare
1. challenge
3. negative force
4. interrogation
1. I dare you to try spicy salsa!
2. I wouldn't dare to ask HR for a salary hike.
3. How dare you speak to your mother like that?
Need
1. prohibition
2. interrogation
You need not come here.
Does he need to go there?
Used to
habitual action in the past
My mother used to tell me moral stories.
Ought to
1. obligation
2. strong likelihood
You ought to work hard for your exam.
It ought to rain later today.
---
You Asked, We Listened – List of All Grammar Chapters Updated 😍😍
---
Also, Read
---